The Atlantic museum:Europe's first underwater museum
The Atlantic Museum of Lanzarote is located in the bay of Las Coloradas, south of Lanzarote. It is the work of the British artist Jason deCaires Taylor and is the first underwater museum in Europe, there's two already, one in Mexico and one in the West Indies.In a extension of 2,500 square metres we can find more than 300 figures, some of the models used for the sculptures of the Atlantic Museum are neighboring the island of Lanzarote.
If you are interested in this experience, do not hesitate to contact us!
Requirements for the Atlantic Museum dives.
Minimum qualification open water diver.
You have to book 48 hours in advance.
2 dives are made. 1st in the Coloradas and 2nd in the museum.
Includes transportation, complete equipment, boat and museum entrance.
Price
€ 115
€ 95 (with own equipment)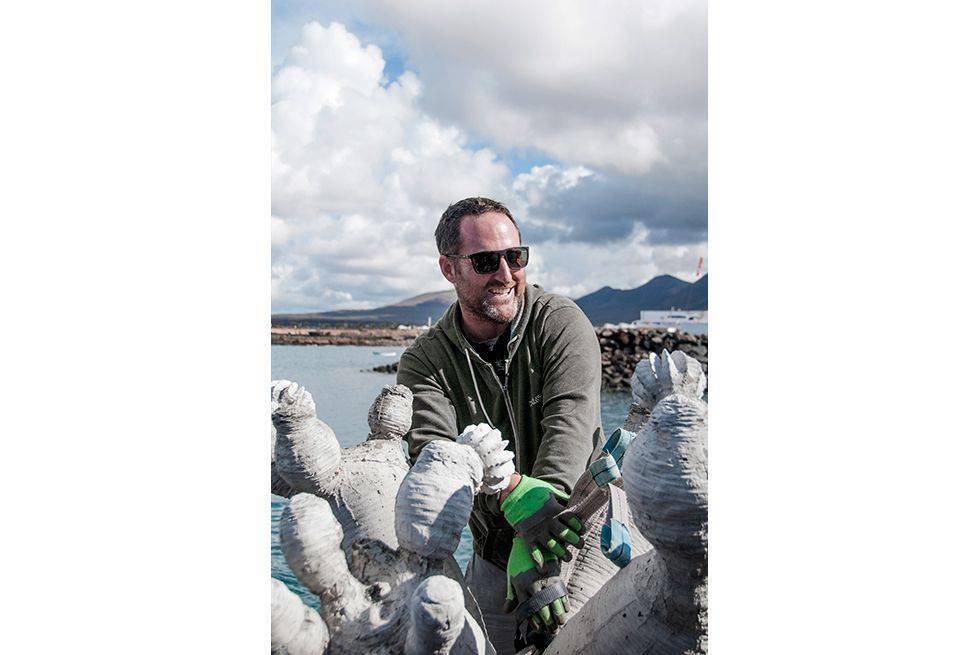 Artist Jason deCaires Taylor (pictured) said that The Atlantic Museum "constitutes a portal into another world and fosters a better understanding of the precious marine environment and our utmost dependence on it".
The figures are 14 meters in depth, it is an easy immersion for all ages and physical condition for this we will need the most basic titration. Below we detail the certified companies of which we are taking part. The visit must be guided.
Some of the artwork:
'Los Jolateros', a tradition of Lanzarote, children in boats made of brass.
The work entitled 'Descontrol' is a set of sculptures that form a playground in whose attractions adult men play and costumes.
'The portal' will be habitat for octopuses, sea urchins and juvenile fish.
'Human Swirl' is a set of 200 life-size figures that create a great circular formation.
'The Raft of Lampedusa' raises the tragedy of the maritime migrations, next to us we see 'Los Fotógrafos', a faceless couple becoming a selfie invites us to reflect on the use of technologies, to make us find the message is located at Side of 'The Raft of Lampedusa'.
Some of the models used as a sculptures of the Atlantic Museum are neighbors of the island of Lanzarote.