SEA TREK
UNIQUE IN EUROPE AND EXCLUSIVE IN LANZAROTE
IS THE EASIEST AND MOST FUN ACTIVITY UNDER THE SEA.
ALL YOU HAVE TO DO IS WALK AND BREATHE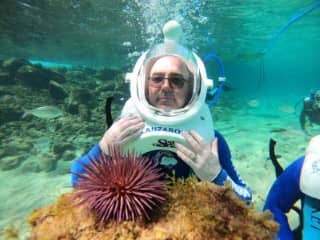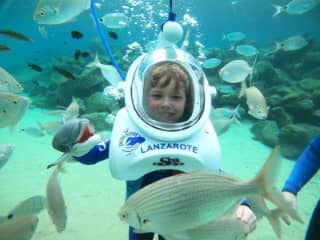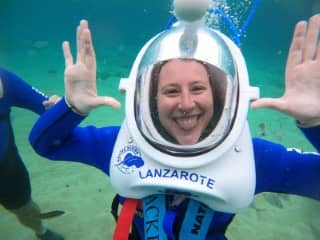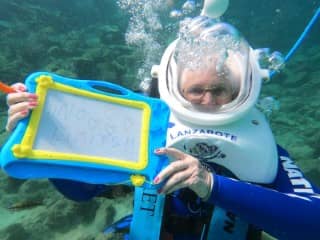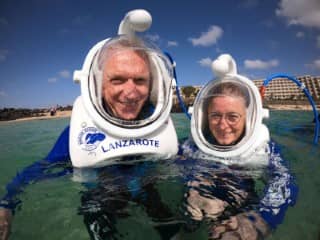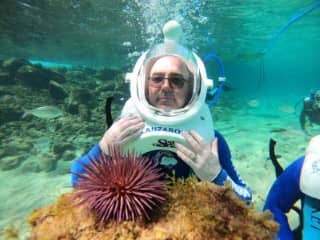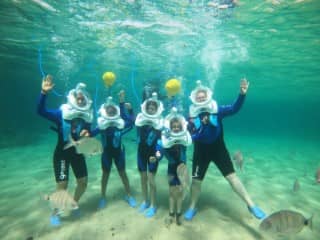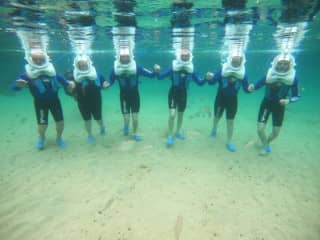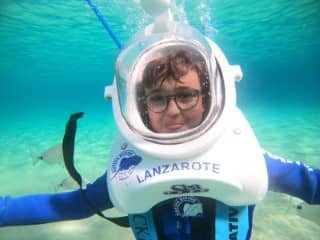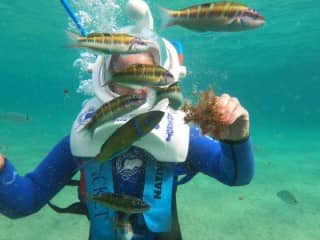 Sea Trek is an innovative system that allows you to walk under the sea. It consists of a helmet that offers us an impressive vision (manufactured with the most advanced technology) and a floating raft with two bottles that continuously supply air through the hose-connected hose.
This new experience will make you feel zero gravity like on the moon surrounded by our stunning marine life.
If you can walk and breathe you can do Sea Trek!
The minimum age for this activity is 8 years old, you don't need to know how to swim, you can wear goggles, make-up, no experience is necessary and anyone can do it regardless of their physical condition, as you only need to walk, breathe and a short training session of ten minutes. It lasts 20 to 30 minutes and has a maximum depth of six metres.
Crystal clear waters, golden sandy bottom and a very varied marine fauna is what awaits you when you come to walk on the beach of Jablillo.
This is the comment from a family who visited us.
Today we celebrated my daughter's 17th birthday by walking along the sea. We received personalised attention and they made it easy for us to do the activity as a family. My daughter has Sturge Weber Syndrome, she doesn't pay much attention to directions and her mobility is not 100%, but she loves the water. It was a fantastic experience and we highly recommend it.
Birthdays, proposals, family experiences and surprise gifts for friends. That's what you can do with Sea Trek Lanzarote.
Playa del Jablillo is the best beach in Europe for Sea Trek, diving, snorkelling or super snorkelling. It has crystal clear, calm waters, with golden sand and rocks where the marine fauna is very varied, come and have fun with Native Diving!
60€ for kids between 8 and 12 years old.

Duration: 10 min theory and 20 to 30 min walk.

Depth: 3 to 6 m.

No need to know  swim.

No previous experience necessary.

You will remain dry from the shoulders up; your hair doesn´t get wet,

Your makeup won´t run, and you can wear prescription glasses.

Your certified sea trek guide will walk with you underwater along a

Pre-determinated path through colorful marine life and schools of beautiful fish.

Photos and videos 25€ →

40% discount

if you book directly on our website.

For security is not allowed the use of personal cameras.

Included: Wetsuit and booties.

After finishing the Sea Trek you will have a 25% discount for  Try Scuba or Try Scuba activitie. Please ask at the office.
What do our customers says?
Reviews help us to keep improving our services.
"Had a try dive 2years ago whilst holidaying on the island, great experience everybody who works their are very professional and friendly, this year I decided to have a proper dive experience and we went out of the resort so see could dive deeper. I've got a hearing problem and they where very good with me .
The instructer tim was really good whilst diving I was having problems with the water pressure on my ears but Tim was really patient and allowed me all the time I needed to equalise the pressure .
Very professional people was a pleasure and would thoroughly recommend them."
"My partner and I decided to do the Sea Trek as we had seen it advertised through Thompson. From the very beginning the staff were fantastic. Very Professional and good at putting you at ease. Everything was explained clearly and precisely. You are provided with wet suits and appropriate footwear, then taken a short walk across to the bay. I was a little bit apprehensive when we first started to enter the water, but once the helmet was on and we were underwater all I can say is Amazing!!! If you ever go to Lanzarote this is a must do. Thank you to all the staff."
"Sea Trek with Victor. We booked the Sea Trek for the four of us whilst staying in Costa Teguise. We booked it through our Tui rep as it was the same price as going independently. We were picked up from our hotel and dropped back even though it was only about a 15 minute walk. The instructors were great and I was a bit nervous but they put your mind at rest. It is quite expensive but a quirky thing to do. We saw lots of fish, a sea urchin and a sea cucumber. It was nice being able to purchase the video footage and pictures on a memory stick for 25 Euros. My husband and son went back the next day to snorkel in the bay and they let him have a snorkel and mask for free as he only wanted it for an hour. "