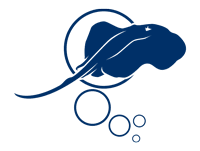 DIVES IN MALA
This dive is a very good option when the weather is good.
It stands out for its purely volcanic rocky landscape, dotted with white sand. Here there is an excellent representation of many of the Canarian ecosystems in a very small space. In the upper part, the rocky bottom is covered with a colourful blanket of algae, below 10 m the diademed sea urchin has created an extensive blanket of white sand and the rock, before disappearing into the sand fields, often forms cliffs and caves. Below 40-50 m, black coral forests grow and are only accessible to trained divers.
Access is from land and in the car park, located relatively close by, we can comfortably equip ourselves and then go down a path with the equipment and enter the water via one of the two metal staircases.
The maximum depth is 30m, although the cliff is lost up to 100m.
It is important to observe the passage of tuna, amberjack, wahoo and sometimes manta rays in the blue.
In caves and hollows it is interesting to look for animals such as moray eels, octopuses, giant anemones, briotas and even narwhal shrimps.
When swimming above the sand, it is important to watch out for angel sharks, rays, sharks, scorpion fish and stingrays.
CHARCO DEL PALO
The entrance is by land.We walk down a path with the equipment and enter the water jumping or by one of the two metal staircases. We can do two routes on this dive site. We have several caverns and way throughs and it is interesting to look for sevceral animals like morey eels, octopus, giant anemones and shrimps inside the caves. Also is a good place to find stink rays and angel sharks especially on winter time.
EL ASCENSOR & PUERTO MORRO
Entrance from the shore by a path. Depth max. 0-30m. This dive presents a magnificent volcanic tube through which we can travel as if we were in a lift. On its walls, covered with sponges, hide a large number of narwhal shrimps, crabs and sometimes some rays. The second route takes us to the area known as Puerto Moro. It has a spectacular cave with many light entrances, as well as passages and arches. Continuing up to 30 m, we find a small volcanic tube of less than 10 m in length also with several light entrances known as the Ascensor Chico.