ADAPTED SEA TREK
UNIQUE IN THE WORLD !!!
DESIGNED AND MANUFACTURED BY THE NATIVE DIVING TEAM,
It is a new and unique underwater activity in the world. The adapted chair that we have developed and built in Native Diving Lanzarote is prepared to take any person with reduced mobility who has the dream of feeling the experience of being under the sea sharing 30 minutes with the marine life of the Jablillo Beach.
Sub Sea System, the California headquarters of Sea Trek, has congratulated us for being the first to dare with this experience and awarded us the prize as the best operator in the world 2016. We are ready to make your dreams come true.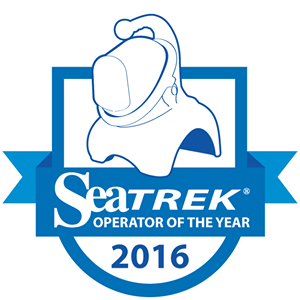 Last week we have been visited by Josu (Pais Vasco), Nathan and Nic (England), people with reduced mobility. After listening to their stories we felt obliged to take them underwater and thanks to our fellow lifeguards who lent us a water adaptable chair we could realize their dreams. These are some of the images from your experience.
Who can do Adapted Sea Trek?
Everyone can do Sea Trek, but you have to consult us before booking.
Exceptions:
If your doctor says no.
If you are unable to follow the instructions of the instructors.
Maximum weight of the person 150kg.
The Jablillo Beach offers us the necessary safety to practice Sea Trek, diving or snorkelling in a safe way, where the water is crystal clear, the sand is golden and there is a great variety of marine life.
Sea trek adapted
Water activity
Minimum age 8 years.

Duration 30 min.

Maximum depth 4 meters.

3 instructors per person.

Adapted Chair Native Diving.

We do not do pickups with chairs.

Check availability.

This activity needs to be prepared in advanced.